Do you want to build your GIS portfolio online? There is a course for that!

By the end of the course, you'll have a polished online GIS portfolio and an expanded network of special - I mean, spatial - fellows!
Frequently asked questions
This course is targeted at GIS students and recent graduates looking to build their GIS portfolio online. It is also suited for those early in their careers.

What's so special about this course?
The course will be offered through a new Cohort Based Courses platform that I'm excited about and has inspiring people working and investing on it, such as Wes Kao from altMBA and Tiago Forte from Build a Second Brain, respectively.
A cohort-based course is all about active learning alongside peers, motivating each other, and keeping each other accountable.
Hmm, that sounds interesting… tell me more.
The course will include live lectures, community discussions, case studies, feedback, support, Q&A, practical projects and real-life exercises like
building a free website
,
adding a wide range of contents
and
making the portfolio easily shareable
.
Why would I bother to create an online GIS portfolio in the first place?
Well, let me answer that with another question: what better platform to highlight your communication ability, showcase your spatial analysis proficiency, illustrate your cartographic talent and demonstrate problem-solving?

An online GIS portfolio is basically a personal website that compiles materials that document your experience, skills, and learning journey (past and present) in an accessible and appealing way.
All that stuff you have been posting on your social media profiles for the past few years? Leverage those contents by putting them in your online GIS portfolio! Your assignments from university? Repurpose them! Are you actively learning something new? Document the journey!
What if I do not have anything to show in my portfolio?
Well, I highly doubt you have produced zero contents throughout your learning journey in Geography, GIS or data visualisation! Still, if you are not comfortable sharing them with the whole world (maybe you are not that proud of the final result – I know that feeling!), we will have sample visualisations for you to build on.

Is this course going to have an impact on my life?
I believe so!
If you're a student, you will start leveraging your academic exploits and keeping a record of your learning journey right away.
If you're a recent graduate, you'll have an edge when applying for jobs.
If you're an early career professional, you'll finally be able to show your friends and family what you're capable of (specially those who, despite your best efforts, still can't understand what you do for a living!).
Ok… but what do you expect from me?
Right now, I'm looking to see if a small group might be interested in a beta cohort so I can perfect the material. I'll start small, gather feedback, iterate and see how it goes.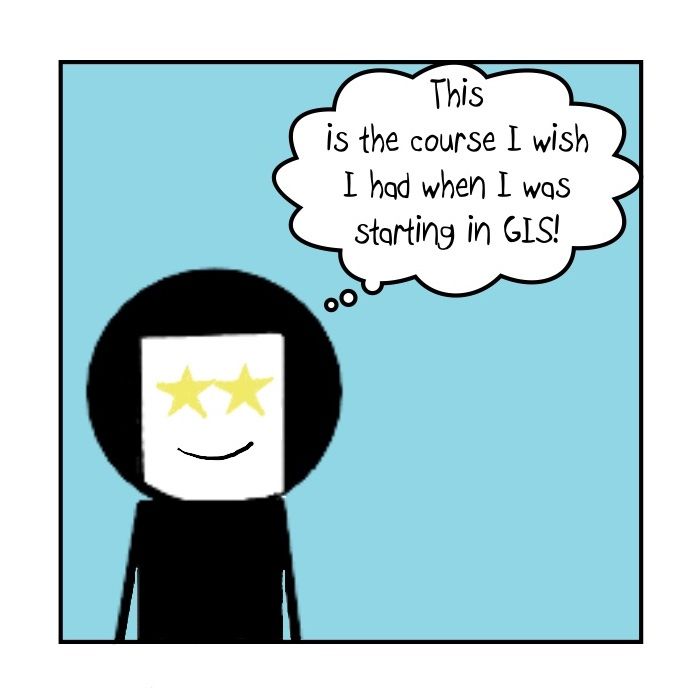 Created with